How do you know what level your hair is? When we talk about your hair "level" it's just a standardized way to identify the lightness of your hair. When you're using semi-permanent hair color, your hair color is integral to the end result. Whatever shade you're craving you'll find helpful hints when it comes to achieving your "dream hair!"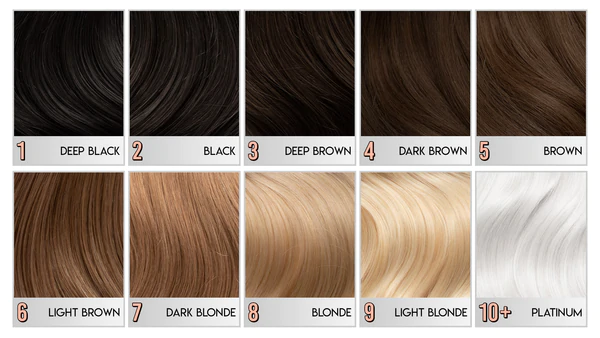 LEVELS 1-5
Level 1 is the darkest shade—jet black, with no brown undertones. If your hair is at a level 1, semi-permanent hair color will likely not show up. You will have to dye your hair at least a level 3 for semi-permanent color to visibly show up. Since levels 3 and 4 are dark-to-medium brown bases, they work best with darker color like Wrath, Transylvania or Aquamarine.
For these levels, we recommend:
Arctic Fox Wrath Semi-Permanent Hair Color
Red lips, red nails, red hair—you can have it all with Wrath. This bold classic never goes out of style! Wrath is a deep red with berry undertones which can become pinker as it fades. It shows up well on brassy tones and gives dark, dimensional tints to darker hair. This shade turns out best on hair pre-lightened to a level 7.
Arctic Fox Transylvania Semi-Permanent Hair Color
Raven wings, stormy night skies, and hair as black as your heart—Transylvania is the perfect fit for achieving your darkest dreams. This primarily blue-based jet black will take well to a variety of base hair colors but will show as the darkest, truest black on hair lightened to around a level 7 or lighter.
Arctic Fox Aquamarine Semi-Permanent Hair Color
Mermaid vibes for days! Aquamarine is one of our most pigmented blues with aquamarine/teal undertones. It'll turn out most vividly on pre-lightened hair, but will still work to give a deep teal tint to darker shades of unbleached hair.
LEVELS 6-7
Levels 6 and 7 are a light brown/dark blonde range. While these bases will take on most colors, they will appear more subtle than on a prelightened base in the level 8-10 range. Sunset Orange or Virgin Pink are great options to add dimension to base levels 6-7.
For these levels, we recommend:
Arctic Fox Sunset Orange Semi-Permanent Hair Color
Is it hot in here or is it just you?! Sunset Orange is a fiery, deep red-orange that turns out well on a more medium blonde! Brassy tones won't cause any problems for this color. Since it's primarily red-based, the red undertones of Sunset Orange may come through more strongly on hair that is more of a light blonde, around a level 9 or lighter.
Arctic Fox Virgin Pink Semi-Permanent Hair Color
Picture this: You're laying on the beach with flowers in your hair. Ready to bring those tropical vibes everywhere you go with Virgin Pink? This vibrant hot pink will give a deep magenta tint to light brown hair, and will turn out most vibrantly on pre-lightened hair—no need to fear brassy tones with this shade.
Arctic Fox Purple AF Semi-Permanent Hair Color
We don't want to rain on anyone's parade, but Purple AF is one of our faves. This deep, true purple is a versatile color that works well on a variety of base colors from platinum to light brown, giving deep tints of color to darker hair and showing vibrantly on lightened hair. It even works well to cover up other faded colors!
LEVEL 8
Level 8 is a full-blown blonde shade, making it a great base to for super vibrant color. All AF Colors (with the exception of pastel shades) will show up best on level 8 hair.
For this level, we recommend:
Arctic Fox Poseidon Semi-Permanent Hair Color
Make some serious waves with this mythical shade. Poseidon is a vibrant, medium true blue. For the most vivid results, this oceanic color should be applied to hair that has been pre-lightened to a cool-toned level 8 or lighter.
Arctic Fox Cosmic Sunshine Semi-Permanent Hair Color
You're a ray of sunshine—now your hair can be, too! Cosmic Sunshine is a lively, sunny yellow shade! As a lighter color, it will turn out best on hair that is lightened to a level 8 or lighter; brassy tones may give it more of a golden glow.
LEVELS 9-10+
Level 9 is that not-quite-platinum shade that's an extremely light blonde and will take most semi-permanent dyes effectively. Just be cautious if you are using a lighter blue or blue-based shade, as it can interact with the yellow pigment in your hair. For a cool tone-up, you can always add a few drops of a shade like Purple Rain to offset the yellowing. Level 10 is platinum blonde, which is ideal for most colors, especially pastels. If you want to go baby pink or blue, this is the right base. If you are a regular at bleaching your hair, it is also possible that your hair is even lighter than a level 10. You can achieve a level 10+ with a toner, but keep in mind that the tones in the toner can interact with any AF shade.
For these levels, we recommend:
Arctic Fox Periwinkle Semi-Permanent Hair Color
Watch the clouds go by with hair the color of the sky. Periwinkle is a dreamy pastel blue with lavender undertones that will turn out best on platinum hair, and generally won't take to hair any darker than a level 9.
Arctic Fox Frosé Semi-Permanent Hair Color
Baby pink on tap? We have that. This pastel pink shade shows up brightest on platinum hair, but will appear as more of a dusty pink/rose gold on yellow-toned blonde. How Frosé shows up on different levels of blondes will vary depending on if you have naturally blonde hair or it's dyed that way etc. Use straight out of the bottle and enjoy Frosé responsibly.